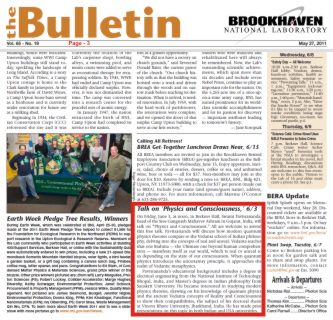 Click to Download PDF for lecture delivered at Brookhaven National Laboratory,NewYork on June 3, 2011
Talk on 'Physics and Consciousness,' 6/3
On Friday, June 3, at noon, in Berkner Hall, Swami Pavitrananda, head of the Sree Gangnath Mahavev Ashram in Gujarat, India, will talk on "Physics and Consciousness." All are welcome to attend this free talk. Pavitrananda will discuss how modern quantum physics theories compare to the Vedanta school of Indian philosophy, delving into the concepts of real and unreal. Vedanta teaches that one Brahma — the Ultimate one beyond human comprehension — manifests itself as our world, which is real or unreal to us depending on the state of our consciousness. When quantum physics introduces the uncertainty principle, it approaches the realm of Vedantic metaphysics.Pavitrananda's educational background includes a degree in electrical engineering from the National Institute of Technology, Bhopal, India, and Master's degrees in Indian philosophy from Sanskrit University. He became interested in studying modern physics theories, drawing on his knowledge of quantum physics and the ancient Vedanta concepts of Reality and Consciousness to show their compatibilities, the subject of his doctoral thesis at Vinova Bhave University, Jharkhand, India. He has made prior presentations on this topic in both Indian and USA universities.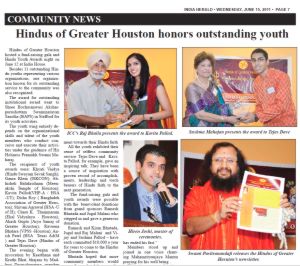 Click to Download PDF for INDIA HERALD,HOUSTON, TEXAS • WEDNESDAY, JUNE 15, 2011
The evening began with invocation by Keerthana and Kruthi Bhat, bhajans by Madhuri Dasmohapatara ,member of Hindu Students Association at U of H and blessings from Swami Pavitrananda Bramhachari, visiting from India, who lighted the traditional lamp.
In his remarks Swamiji highlighted the need for nurturing both the left and right brains of a child. Modern education taught analytical knowledge, material science and the ways to live in the world through the left part of the brain, while the right brain, responsible for the spiritual growth, remained dormant.
Press Report
Utsav of Ashram
Visit: Baidyanath Dham Deoghar, Jharkhand from 22nd-Oct-2013 to 25th-Oct-2013
Sant Samagam- Visit of Jagat Guru Shankaracharya Swami Swarupanandji Maharaj to Gangnath Mahadev Ashram on 10-Dec-2011 for Chandra-Grahan Snan
Invited as Chief Guest to Inaugurate & give Key Note Address at National Seminar Organized by M.S University Vadodara on 26th-Jan-2012 to Celebrate 150th Birth Anniversary of Maharaja Sayajee-Rao Gaekwad
Gallery
Upcomming Projects
To completely rennovate Shree Gangnath Mahadev temple and Saraswati Gufa and construct the temple of Shree MATA BALA TRIPURA SUNDARI DEVI .
Quick Link
Contact Us
Shree Gangnath Mahadev Ashtram
Shree Gangnath Sanshtan Ashram Trust
P.O.: Chandod, Taluka - Dabhoi,
Dist.: Vadodara (Baroda) State: Gujarat,
Country: India. PIN/Zip code: 391105.
Tel: +91-2663-233241 Landline (office)
Cell: 09687806363 Manager Harish Bhai
Email - mail@gangnathtrust.org